Open model element is another kind of search method. It can be used to quickly navigate to states and regions. To access Open model element, use the [Ctrl+Shift+Q] shortcut or select Navigate → Open model element in the main menu.
By doing so, the dialog shown in the next screenshot will open.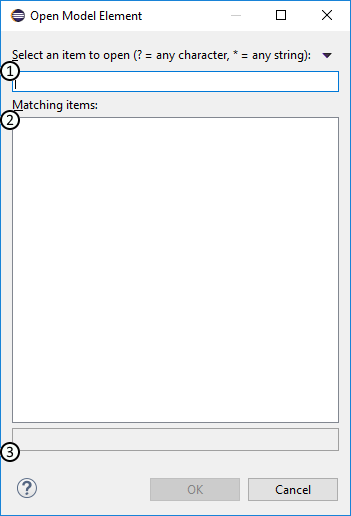 The dialog consists of a single input element

and two output elements

/

.
A search operation performed with Open model element is equivalent to "Searching via search dialog" with the following setting:
| Setting | Value |
| --- | --- |
| Search string | same as in |
| Case sensitive | ✘ |
| Regular expression | ✘ |
| Search for States/Regions | ✔ |
| Search for Declarations | ✘ |
| Search for Properties | ✘ |
| Scope: Workspace | ✘ |
| Scope: Selected resource | ✔ |
Differences between Open model element and Search dialog are subtle, but noticeable. The results will promptly appear in

while typing your search string in

. The hierarchy of a selected result is displayed in

as a text instead of using a tree.
Navigating to a result can be done by double-clicking on the result. Or select the result and clicking on the OK button or hit the [Enter] key.
The Open model element dialog remembers any matching search results. On reopening the dialog, remembered model elements matching the new search string will be displayed above any newly-found elements. This makes it easier to navigate to them again at a later time.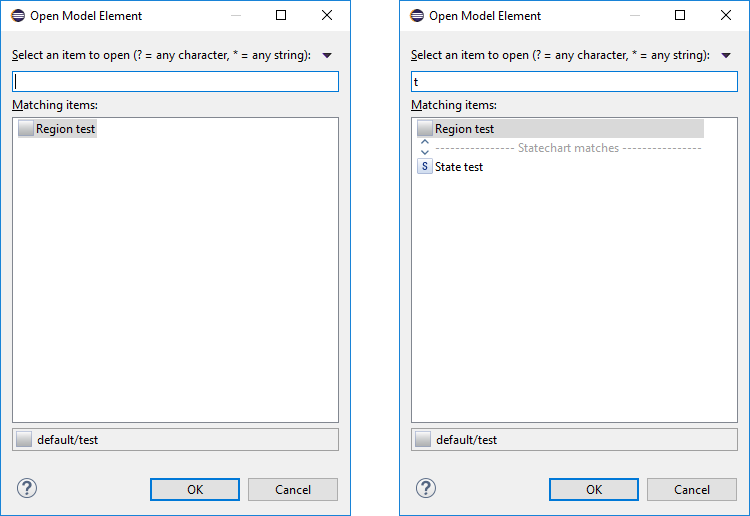 Remembered elements can be removed from the history by selecting them and pressing the [Del] key or by right-clicking on a remembered element and choosing Remove from history in the context menu.