Rhapsody adapter: Improved evaluation of attributes

Copy link to clipboard
We improved the evaluation of built-in and custom attributes for Rhapsody model elements. You now can use any attribute for filtering and mapping.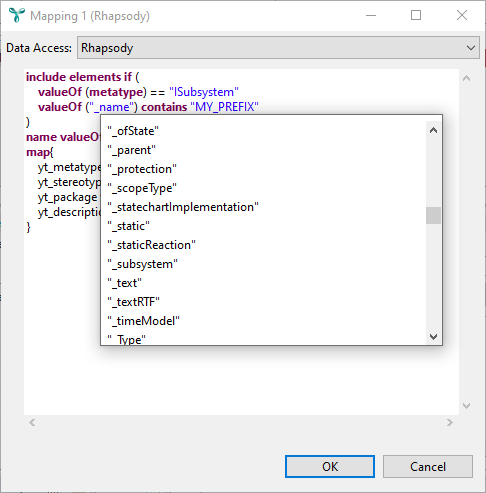 It is now possible to store links in DOORS invasively. YT uses DOORS external links to store links to any artifact type that is configured in YT. Note that these links are not (not yet) navigable – they need to be evaluated by YAKINDU Traceability.

When configuring PTC Integrity artifacts, string expression for attribute mapping are supported.

XML and Serna adapter support XML Inclusions

Copy link to clipboard
It is now possible to configure XML or Serna Data Accesses to follow include tags. See W3C documentation of XML Inclusions
Please specify in the configuration whether YT should honor inclusions or not.

The Enterprise Architecture supports now eapx files

Copy link to clipboard
The title says it all: The EA adapter supports models in databases, .eap files and .eapx files.
YT checks out licenses more accurately if configuration editor is open

Copy link to clipboard
On open configuration editor, YT checked out licenses for all adapter types. The motivation for this behavior was to provide license information to the user pro-actively. We removed the pro-active checkout to get more accurate license usage statistics. The user is now lacking information about available licenses during configuration, but he's notified directly after he configures an adapter which is not licensed.