Scrum Foundation Training
This seminar offers an introduction to the basics of Scrum. The participants will be familiarized with agile management methods and the scrum process will be discussed in detail. They get an understanding of the roles, artefacts and learn about the events of this agile methodology.
In practical exercises, the learning contents are deepened and the participants prepared for the use of Scrum in practice. The difficulties of Scrum can also be demonstrated in this way.
The two-day Scrum Foundation training enables you to successfully use the acquired Scrum knowledge in your company's environment.
Contents of the Scrum Foundation training overview:
Principles and method of action of agile methods
Artefacts, events and roles in Scrum
Requirements analysis and prioritization with the product backlog
Release planning and management
Scaling of Scrum
The content to prepare for the Scrum Foundation certification is similar to the PSM I training of Scrum.org. Within the scope of the Scrum Foundation training according to TÜV, you will receive further content and you will be given a more detailed knowledge.
Scrum Foundation Certification (TÜV)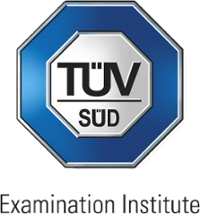 At the end of the second day, the Scrum Foundation certification will be held by TÜV Süd. The Scrum Foundation certification is based on a multiple choice exam with 30 questions. To pass the Scrum Foundation certification, 65% (20 of the 30 questions) must be answered correctly. Tools are not allowed (Closed Book Test).
The existence of the Scrum Foundation certification is the prerequisite for the additional professional certifications (Scrum Master certification & Product Owner certification).
Public Scrum Foundation Coachings With TÜV Certification
Our public Scrum Foundation trainings are held in German only. If you do have the need for an English training, an inhouse workshop could be the right choice for you. Of course you are also free to join our German Scrum Founcdtion courses, you can find by clicking the button below.
Inhouse Scrum Foundation Coaching & Certification
Would you like to get the basic knowledge of Scrum for several employees from your team or even for the entire department? Naturally, we also offer the right solution for this request. In an inhouse Scrum training, you determine the location of the event and are flexible in selecting your appointment.
Our Scrum coach visits you at your company's headquarter, the training hotel or your training center and will be happy to answer individual, practical questions. If you are interested in an inhouse Scrum Foundation training, we will gladly prepare an individual offer for you.