Scrum Master Training
The Scrum Master assumes moderating and advisory functions. Among other things, he supports the introduction of Scrum in organizations, optimizes the cooperation between development team and product owner. Furthermore the Scrum Master eliminates all disturbances and obstacles in the development process. The role of the Scrum Master is ideal for consultants and trainers who would like to accompany Scrum projects with their expertise.
Building on your Scrum Foundation certification, you will deepen your knowledge of the tools and practices of this scrum role in this two-day course, with the aim of completing the Scrum Master training course. Using practice-oriented scenarios, you will learn how to react to challenging situations and evaluate options for action.
Contents of the Scrum Master training overview:
Deepen the building blocks of Scrum
Introduction of Scrum in the company
Coaching of large and distributed teams
Assessment of agility
Communication
The contents for the preparation for the Scrum Master certification are similar to the PSM II training of Scrum.org. When looking directly at both training courses, the Scrum Master training according to TÜV with further, more detailed contents.
Scrum Master Certification (TÜV)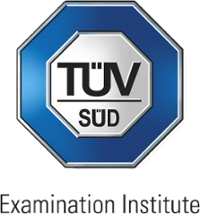 Prerequisite for participation in the Scrum Master certification according to TÜV is a Scrum Foundation certification or a comparable certificate from other organizations.
At the end of the second day of training, the Scrum Master certification takes place through TÜV Süd. The Scrum Master certification is based on two multiple choice tests with six exam questions per element. To pass the Scrum Master certification, 50% (three of the six questions) per element must be answered correctly. Tools are not allowed (Closed Book Test).
Public Scrum Master Coachings With TÜV Certification
Our public Scrum Master trainings are held in German only. If you do have the need for an English training, an inhouse workshop could be the right choice for you. Of course you are also free to join our German Scrum Master courses, you can find by clicking the button below.
Inhouse Scrum Master Coaching & Certification
You would like to train and certify several employees from your team to become a Scrum Master? Naturally, we also offer a tailor-made solution for this request. In an inhouse Scrum Master training, you determine the location of the event and are flexible in selecting your appointment.
Our Scrum coach visits you at your company's headquarter, the training hotel or your training center and will be happy to answer individual, practical questions. If you are interested in an inhouse Scrum Master training, we will gladly prepare an individual offer for you.