The customer
The DNA of pixelboxx is Digital Media Asset Management (DAM). With the web-based digital asset management solution from pixelboxx GmbH, customers can manage their media content, such as images, graphics, PDF documents, audio, video, office documents, etc., and transfer them to other systems (e.g. PIM, CMS, Shops, etc.). This means that pixelboxx is in the center of their application landscape for many customers. pixelboxx relies heavily on AI technologies to optimally support its customers with their assets in their daily work.
Situation and challenge
pixelboxx had to deal with a capacity bottleneck due to a significant increase in the volume of orders for customer-specific requirements. Due to the central role of pixelboxx in the application landscape, a pixelboxx customer needed a portal-web-frontend. The customer wanted to make the assets available to his customers in an uncomplicated way, without them needing access to the pixelboxx.
Approach on the part of itemis
In order to select the most suitable frontend technology for the portal web frontend to be developed, the itemis frontend specialists first defined a prototype procedure with independent components.
In the first draft, the implementation was carried out using the JavaScript library "React". A second draft of the same components was implemented with Angular - a framework for developing single-page applications quickly and efficiently in the right project context.
The decision was finally made in favor of Angular, especially because the partners with whom pixelboxx integrates rely on Angular. The "out of the box" features and the direct support for custom components were additional plus points for Angular.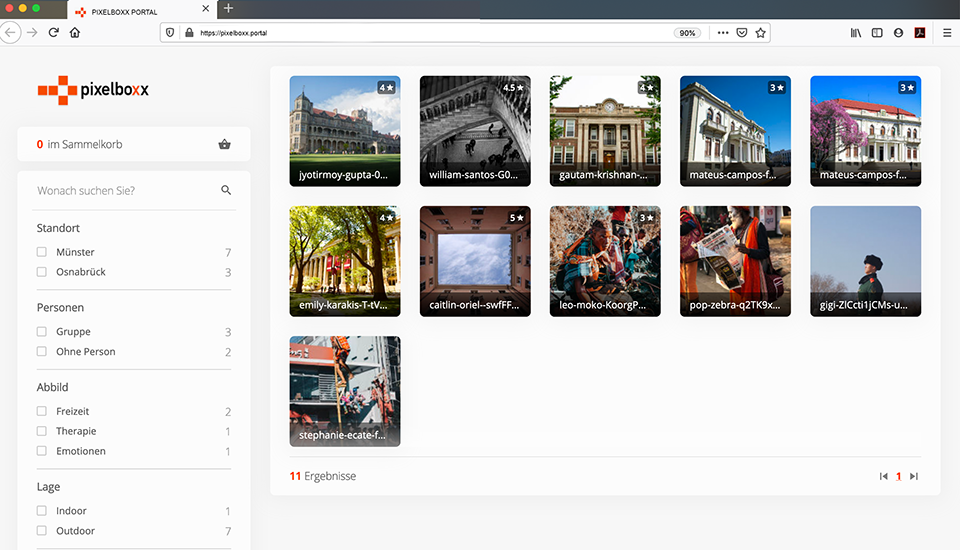 Implementation & customer benefit
itemis quickly came to the rescue, uncomplicated and with the necessary flexibility for pixelboxx. The result was a customer-specific portal, which on the one hand led to the full satisfaction of the pixelboxx customer , and on the other hand also provided a very good basis to be developed into a product by the pixelboxx team.
In the course of this project, the itemis employees were also able to make a valuable contribution to the selection of the future technology stack of the pixelboxx UI.
Due to the very good results in the development project, a software architect from itemis was placed at the side of a software architect from pixelboxx to work together on the design of a new UI framework for pixelboxx. The result was the base for an extremely flexible and very well scalable UI framework, which is currently being developed by the pixelboxx team.
The openness and the spirit of the itemis developers briefly made them a valued part of the pixelboxx team.