It is now possible to create a plurality of trace links in a single step. The YT Editor supports the creation of trace links for the cartesian product of artifacts in sections A and B – even for a combination of trace links of multiple link types.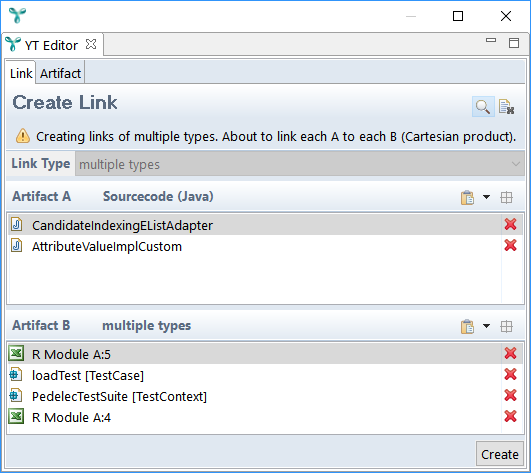 As this method carries the risk of creating unintended links, it is guarded several times in YT.
First of all, the feature is disabled by default. Before first usage, it has to be activated manually in the YT preferences. (Window → Preferences → …)

Furthermore, YT requires a user confirmation if creating trace links of different types in a single step.

This confirmation cannot be deactivated.
And of course, YAKINDU Traceability will never link artifacts without a valid link type definition provided by the YT Configuration.
The YT Configuration now supports attribute names with special characters

Copy link to clipboard
YT now supports attribute names with special characters for the definition of trace artifact types or trace links types. In the mapping definition, they have to be quoted.